Squirrel Story
on
October 11, 2011
at
2:15 am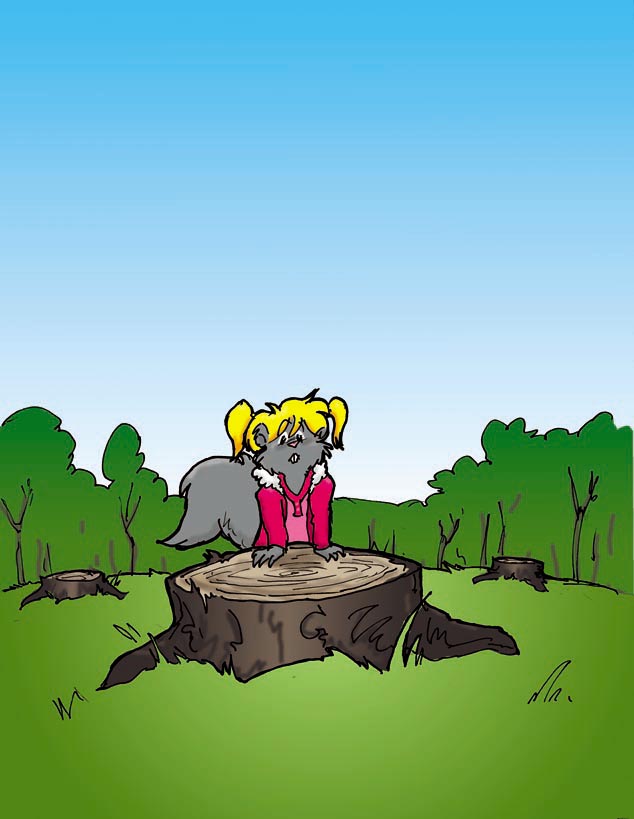 A project I was working on this past year has finally seen publication.  It's a children's book I illustrated entitled Trouble on Earth Day.  No sexy cat-girls in this one, but there is a cute squirrel.
Shelby Squirrel has won a prize for a poster she made at school promoting conservation and she shares ideas with her Mom and Dad about how her family can recycle things at home.  She meets a bluebird who has lost his own home and, using recycling ideas, helps him build a new one.
From the publisher's blurb:
When Shelby wins a first place ribbon for her Earth Day poster, she gets her parents involved with recycling. She befriends a homeless bluebird and helps him  with his problem.

This colorful picture book will facilitate dialogue between parents, teachers, and children about conserving the Earth's natural resources.

The 22 page activity supplement includes comprehension  questions, fun recycling crafts, easy to learn songs, worksheets, games, and  compound word activities.

Included discussions about trees, birds, and recycling materials make it easy for teachers, home-schooling parents, and other educators to pass along knowledge to their students about caring for the environment.

This book also includes the history of Earth Day in terms that children can understand as well as the importance of celebrating this important day.
The book's author, Kathy Stemke, is a writer and educator who has published numerous educational articles and is a contributing editor for The National Writing for Children's Center and
a reviewer for Sylvan Dell Publishing.